10 Best Tablets That Work Really Well With Keyboards
Are you looking for the best tablets that work really well with keyboards? If yes, then you are in the right place!
Tablets with keyboards, also known as two-in-one tablets, allow you to experience the best of both worlds. Since you do not have to settle for an on-screen keyboard, you can work more productively on them. In addition, they often have a built-in touchpad, and the docks or covers protect the display when folded.
These tablet computers fall into the niche category of hyper-mobile computing and serve functions that fit between a smartphone and a laptop.
In recent years, they have become much better and faster with advanced hardware and accessories, such as removable keyboards. Some of them can also use a stylus to improve functionality.
There are various customizations and configurations for these two-in-one tablets in the marketplace. Apple and Samsung are no longer the only ones producing elite-level devices; companies like Lenovo and Microsoft are stepping up to deliver better tablets and compete with their powerful rivals. The latest versions of these multi-functional devices have special keys on their keyboards and many new applications to support multitasking user operations and provide a smoother workflow.
As a result, it can be pretty challenging to choose from the wide range of products available now. Therefore, in this article, I have listed the ten best tablets with keyboards for you to purchase today.
10 Best Tablets with Keyboards in 2023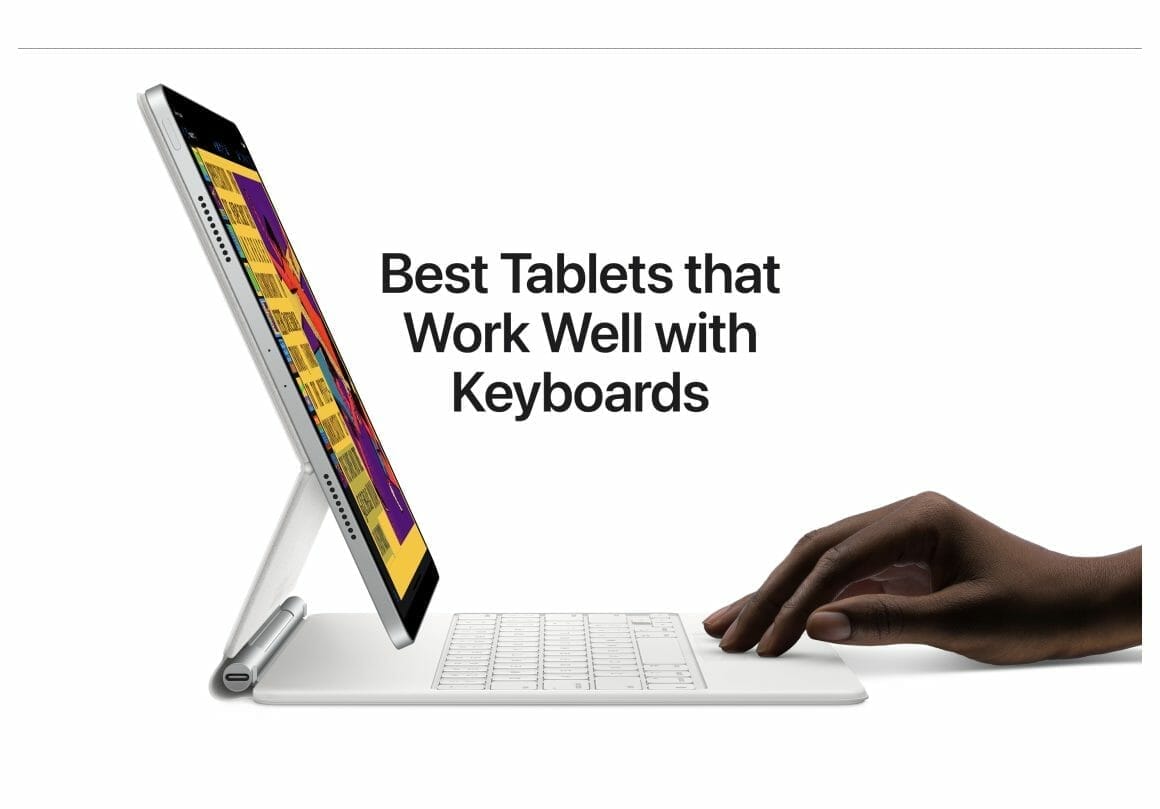 Let us now go through my picks for the top 10 tablets with keyboards available in the market currently.
1. Apple iPad Pro
WHY IPAD PRO — iPad Pro is the ultimate iPad experience, with the astonishing performance of the M2 chip, superfast wireless…
IPADOS + APPS — iPadOS makes iPad more productive, intuitive, and versatile. With iPadOS, run multiple apps at once, use Apple…
FAST WI-FI CONNECTIVITY — Wi-Fi 6E gives you fast wireless connections. Work from almost anywhere with quick transfers of…
View on Amazon
Find it on Amazon.in
The Apple iPad Pro is arguably the best tablet that money can buy. It is an excellent choice for users who want an exceptional PC-like experience on the tablet.
For the keyboard, I recommend getting the optional official Apple Magic keyboard.
WHY MAGIC KEYBOARD — The perfect companion for iPad Pro and iPad Air, Magic Keyboard features a great typing experience, a…
COMPATIBILITY — Magic Keyboard works with iPad Pro 12.9‑inch (3rd, 4th, 5th, and 6th generation).
KEYBOARD LANGUAGES — Arabic, British English, Chinese (Pinyin), Chinese (Zhuyin), Danish, French, German, Italian, Japanese,…
View on Amazon
Find it on Amazon.in
It connects to the tablet magnetically and appears to be levitating in midair! It also has a trackpad and a USB-C port through which you can charge the tablet.
The iPad Pro is available in two screen sizes – 12.9-inch and 11-inch. The most significant difference between the two is the technology that powers the display; the 12.9-inch variant has mini LED backlighting, while the 11-inch one features a traditional LED display. Both of them have equal power under the hood and perform equally well. They are powered by Apple's M1 chips, which also power the new MacBook Air, Mac Mini, and iMac.
2. Apple iPad Air
WHY IPAD AIR — Serious performance in a thin and light design. With an immersive 10.9-inch Liquid Retina display and the amazing…
IPADOS + APPS — iPadOS makes iPad more productive, intuitive, and versatile. With iPadOS, run multiple apps at once, use Apple…
FAST WI-FI CONNECTIVITY — Wi-Fi 6 gives you fast access to your files, uploads, and downloads, and lets you seamlessly stream…
View on Amazon
Find it on Amazon.in
The Apple iPad Air is an excellent alternative to the iPad Pro for users who need to save some money and can compromise with a few features. Overall, it is better than the regular iPad for content consumption and a step below the iPad Pro for content creation. It runs on Apple's A14 bionic chip and features a 10.9-inch retina display with a Wide color (P3) gamut and the ability to hit 500 nits brightness.
Also, it works with the same Apple Magic Keyboard and Smart Keyboard Folio.
Unlike its Pro sibling, the iPad Air only has two speakers that nevertheless are loud and clear. Furthermore, it has a single front and back camera and the much-appreciated ID fingerprint reader for security. In addition, to help you nurture the artist in you, it supports the Apple Pencil. Overall, the Air's performance is excellent for all games and more powerful than the Galaxy Tab S8.
3. Samsung Galaxy Tab S8 series
DeX MULTITASKING: Do more on the go with enhanced productivity capabilities, like Samsung DeX and Microsoft 365 integration, that…
PACKED WITH POWER: Galaxy Tab S8 provides powerful performance with an upgraded Qualcomm Snapdragon chipset, super fast WiFi 6E*,…
S PEN: Inspire your imagination with our fastest S Pen yet, with near zero latency to feel even more like a real pen, and it's…
View on Amazon
Find it on Amazon.in
The Samsung Galaxy Tab S8, Galaxy Tab S8+, and Galaxy Tab S8 Ultra are the best Android tablets. For all three of them, Samsung offers two keyboards similar to Apple: a thin keyboard case and a better but more expensive keyboard cover. In addition, they feature Samsung's DeX desktop mode, which makes them feel more like laptops.
The devices' Qualcomm Snapdragon 8 Gen 1 processor provides decent performance and has access to 8GB, 12GB, or 16GB of RAM, respectively. Their internal storage lies between 128GB and 512 GB. While not as good as the iPad Pro, the Samsung Galaxy Tab S8 series performs well enough for intensive multitasking, Samsung DeX, and even the latest games.
By virtue of their 12.4-inch and 14.6-inch Super AMOLED display, the Galaxy Tab S8+ and Galaxy Tab S8 Ultra are especially great as entertainment tablets. On the other hand, the Galaxy Tab S8 has a classic 11-inch LCD. In addition, all three of them support 120 Hz, like Apple and Microsoft.
4. Samsung Galaxy Tab S7+
PC PERFORMANCE. TABLET PORTABILITY: Transform your tablet into a PC experience with DeX mode and the optional keyboard with…
REDESIGNED S PEN INCLUDED: With improved 9ms pen latency, the redesigned S Pen can control presentations and take notes…
ENTERTAINMENT, UPGRADED: Experience cinematic viewing with larger edge-to-edge displays, TFT LCD screen,** and AKG quad speakers…
View on Amazon
Find it on Amazon.in
The Samsung Galaxy Tab S7+ offers you not only the best of Android but Samsung's own DeX UI, giving you a PC-like experience when you connect it to a keyboard. It is available in variants such as the S7FE, S7 and S7+. However, since the three differ in their specifications, I've focused on the top-of-the-line here – the S7+.
The tablet has a Super AMOLED display with a refresh rate of 120Hz and support for HDR10+. It has a 16:10 display – an excellent choice for users who want to work on documents and spreadsheets for productivity. Its display is also suitable for gaming and content consumption. The Tab S7+'s design closely resembles the iPad Air's, and it supports a stylus for creative professionals.
The hinge is the most significant advantage of the official back cover and keyboard case of the Tab S7+. It lets you prop the tablet up to 165 degrees, making it more convenient than a laptop hinge.
5. Lenovo Tab P12 Pro
The 1.25 lb light weight saves you from the physical strain of carrying this tablet
12.6″ screen allows a great view of movies and TV shows and yet is small enough to easily carry
The lavish 3.20 GHz processing speed and 6 GB memory lets you easily juggle between social, professional and gaming apps
View on Amazon
Find it on Amazon.in
The Lenovo Tab P12 Pro is an excellent alternative to the Samsung Galaxy Tab S8+. Although it won't get software updates for a while, it tends to be much cheaper and comes with a versatile keyboard cover that you can use separately via Bluetooth. In addition, it has an impressive 12.6-inch Super AMOLED display that is slightly smaller than the Surface Pro 8 and 12.9-inch Apple iPad Pro. You can write on the screen with Lenovo's Precision Pen 3, which is included with the device.
The P12 Pro has a Qualcomm Snapdragon 870 processor with 6GB or 8GB of RAM and 128GB or 256GB of internal storage to provide decent performance. You can also receive an additional 5G of space on request. The tablet's performance is slightly below the Galaxy Tab S8 series and significantly below the iPad Pro. However, you can smoothly play games such as Fortnite with high graphics settings. Lenovo also offers several premium features, such as a metal casing, fingerprint reader, and powerful speakers.
6. Lenovo Tab P11 Pro Gen 2
Processor : MediaTek Kompanio 1300T (8C, 4x A78 @2.60 GHz + 4x A55 @2.00 GHz)
6 GB LPDDR4X (Soldered)
11.2″ 2.5K (2560 x 1536) OLED, glossy, anti-fingerprint, touchscreen, 420 nits
View on Amazon
Find it on Amazon.in
The Lenovo Tab P11 Pro Gen 2 is an excellent alternative to the Samsung Galaxy Tab S8 for users who want to save some money. The 11.2-inch tablet has an optional keyboard cover that is nearly as good as Samsung's. Moreover, by virtue of its Productivity Mode, it is a decent choice if you want a reliable secondary device with a good keyboard at a reasonable price.
The P11 Pro Gen 2 is better than the Galaxy Tab S8 regarding the display, as it has an 11.2-inch OLED screen. It supports HDR 10+ and 120Hz and a high resolution of 2560 x 1536 pixels. Like the P12 Pro, it comes with Lenovo's Precision Pen 3. Although the MediaTek Kompanio 1300T chipset's performance is relatively weak, it is sufficient for games such as PUBG Mobile and Fortnite. Also, the tablet offers 6GB to 8GB of RAM and 128GB to 256GB of storage space.
7. Lenovo Duet Chromebook
The Lenovo IdeaPad Duet 5 Chromebook is the ultimate 2-in-1 device, powered by Chrome OS and cloud computing and designed for…
This versatile touch screen Chromebook has a detachable fabric folio keyboard and stylus support, plus an ultra-light slim…
With its lightweight Samsung OLED display, the Duet 5 Chromebook's 13.3″ full-HD screen (1920 x 1080) at 400 nits bright is…
View on Amazon
Find it on Amazon.in
The Lenovo Duet Chromebook is an interesting choice because it is one of the few Chrome OS tablets. Also, it comes with a keyboard cover for around 250 dollars. By virtue of the low cost and the keyboard, it offers an excellent price/performance ratio for students in particular.
Because of its 10.1-inch display, the Lenovo Duet Chromebook is smaller than a regular laptop. However, you can eventually get used to it and write quite neatly. In addition, since Chrome OS was initially developed for laptops rather than tablets, you can use it wonderfully with a mouse and keyboard.
The device has a MediaTek Helio P60T processor with 4GB of RAM and 64GB or 128GB of internal storage. Its performance resembles a Samsung Galaxy Tab S6 Lite or Lenovo Tab P11. Thus, it is more powerful than the cheapest entry-level tablets but unsuitable for intensive multitasking or gaming.
8. Microsoft Surface Pro 9
Built on the Intel Evo platform with 12th Gen Intel Core processors.[2].Control method:touch
Up to 15.5 hours of batterly life. [4]
Adjust the angle with built-in Kickstand.
View on Amazon
Find it on Amazon.in
The Microsoft Surface Pro 9 is one of the best Windows tablets. It comes with the Windows 11 operating system and a unique high-end Surface Pro Signature Keyboard that connects via a magnetic connector. The display is protected when folded, and you can charge the Slim Pen 2 stylus inside the keyboard.
The Pro 9 features Intel Core i5 or i7 processors of the 12th generation, 8GB to 32GB of RAM, and storage space of 128GB to 1TB. Although it is one of the fastest Windows tablets available today, Apple's M2 chipset is undoubtedly more robust. Nevertheless, its performance is excellent, especially for Adobe Photoshop and basic video editing in Premiere Pro.
The tablet's display is 13 inches and has an aspect ratio of 3:2, making it perfect for working. In addition, it has a resolution of 2880 x 1920 pixels and a refresh rate of up to 120Hz.
9. Microsoft Surface Pro X
Designed to keep up anywhere, at any angle, with 13" touchscreen, built-in Kickstand, optional Gigabit LTE (4) and long battery…
Windows 11 has what you need for whatever's next. Family, friends, obsessions, music, creations — Windows 11 is the one place…
Windows unlocks more experiences than ever. From photos to Photoshop,(1) applications optimized for Windows on ARM make the sky…
View on Amazon
Find it on Amazon.in
The Microsoft Surface Pro X is more modern and remarkable than the older Surface Pro models. Its Type Cover is fantastic, and it's a great tablet to use with Microsoft's Office apps. It is equipped with an ARM processor designed by Qualcomm and Microsoft. The operating system is Windows on ARM, specifically for ARM chipsets.
The Surface Pro X smoothly runs apps made for Windows on ARM, including Microsoft Word, OneNote, and so on. However, many other apps (especially traditional ones like Adobe Photoshop and drivers for printers) don't run as well on it. Thus, although the Surface Pro X could be an excellent choice for some people, it's not good enough for traditional Windows users yet.
10. Samsung Galaxy Tab S6
S PEN INCLUDED: Unleash your creativity and never miss a note with S Pen; Use for drawing, jot notes, edit photos, and convert…
ENTERTAINMENT READY: The shows and games you love look epic with Galaxy Tab S6 Lite; Never miss a second of gaming action with our…
LONG LASTING BATTERY: Go ahead: crush your favorite shows for hours, then head to work for a full day of meetings; This battery…
View on Amazon
Find it on Amazon.in
The Samsung Galaxy Tab S6 is a predecessor of the Galaxy Tab S7. It is one of the more affordable options on the market currently. Although it comes with a decent keyboard, the back cover is not connected by magnets but by a sticky substance that works like a suction cup. It's a rather inconvenient design if you want to remove it occasionally.
The S6 has a 10.5-inch Super AMOLED screen and an S-Pen stylus. It features a Qualcomm Snapdragon 855 processor that is powerful enough for demanding games like Fortnite. In addition, it supports the Samsung DeX desktop mode.
Conclusion
We've now explored some of the best tablets with keyboards available today. Before choosing one, consider the kind of tablet you require. For example, some of them are so good that you can replace a premium laptop with them. Others are great tablets with excellent portable keyboards, but you wouldn't want to replace your notebook with them.
After that, you can think about your budget and how much you are willing to spend. You should also consider operating systems; some people may choose a Windows 10 device, while others are more comfortable in Apple's ecosystem. Finally, I hope you choose a great 2-in-1 tablet that helps you with your professional and personal endeavors.
Last update on 2023-09-22 using Amazon Product Advertising API.