The Best Email Finders to Find New Leads
95% of revenue goals are achieved only by sales teams who bring leads and opportunities regularly every month. Such a situation is possible only when you use the correct tools for doing the proper prospecting. Unless you do this, your sales can drop to 25%.
Using a modern email finder tool provides users with a massive amount of contacts in several seconds. Email finders, thus, help you get many new prospects and make your campaign more effective.
Once you get the prospects, you can plan and run an email marketing campaign to turn them into leads and customers. We all know how email marketing is the backbone of all online businesses right now.
Along with these email finders, quality email marketing takes plenty of other tools to succeed, but email finders are the most important starting points.
If you haven't had any luck with email finder tools, there is a point in trying something new.
In this article, I have listed some of the best email finder tools that will make your prospecting easy and more accurate.
Best Email Finders
TLDR;
The email finders listed here are:
Let's directly move to these tools, and then I will discuss why you would need an email finder tool.
Anymail Finder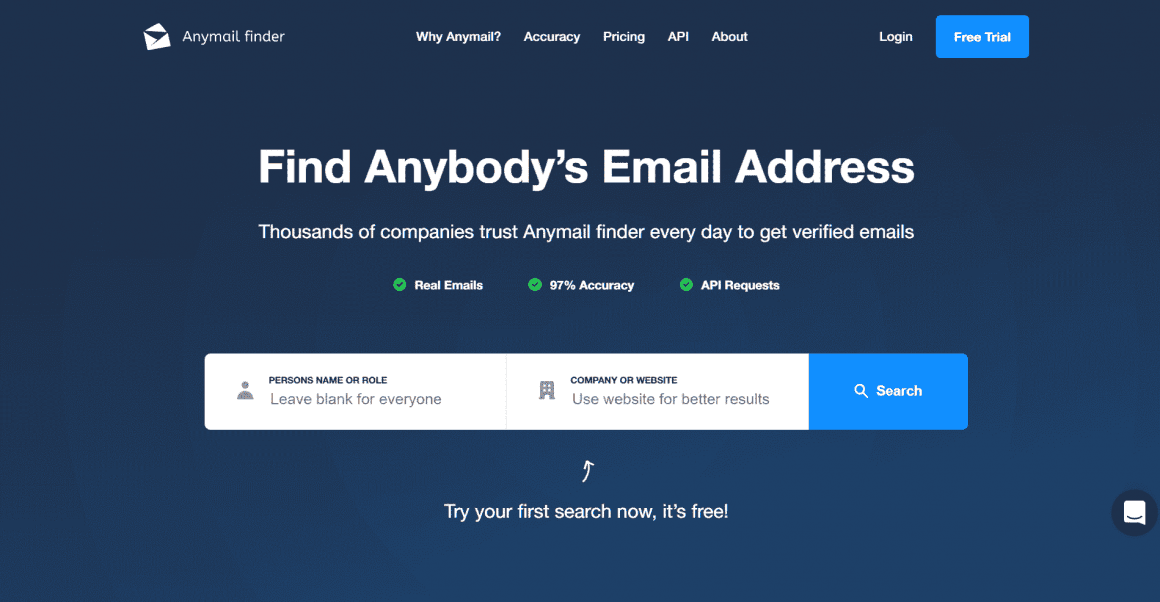 My personal favorite on the list, Anymail Finder can help you find emails just by company or website names. Along with crawling the emails associated with a brand, it prioritizes only those emails that have the least chance of getting bounced.
The first search with Anymail finder is free and the monthly plans start at $49 per month.
SignalHire
SignalHire is built best for sales outreach and marketing campaigns. Like any other email finder tool, it searches for contacts across various sites, providing detailed info on each lead.
You only need a name or a company's name to get started. The paid subscription costs $49 per month which will get you 350 monthly email finder credits.
Lusha

Lusha is more than just another email finder. It also offers additional data and lets you sort prospects by brand information, industry, number of employees and whatnot.
When combined with really high accuracy and realtime updates, this email finder can help you build high-value lists.
Lusha is priced high and is meant mainly for B2B users. Currently, their monthly plan begins at $348 per user per month.
Hunter.io
Hunter is an industry-standard in email finders.
It comes with the best pricing rates ($49 per month) possible and offers a high accuracy rate of at least 90%.
You can start free with 25 free searches from the start. Or, you can try a good Hunter.io alternative.
Snov.io Email Finder

If your focus is to find B2B contacts, try the Snov Email finder. Snov is fast, convenient and effective. And it is suitable for those companies who want to reconnect with past leads.
ContactOut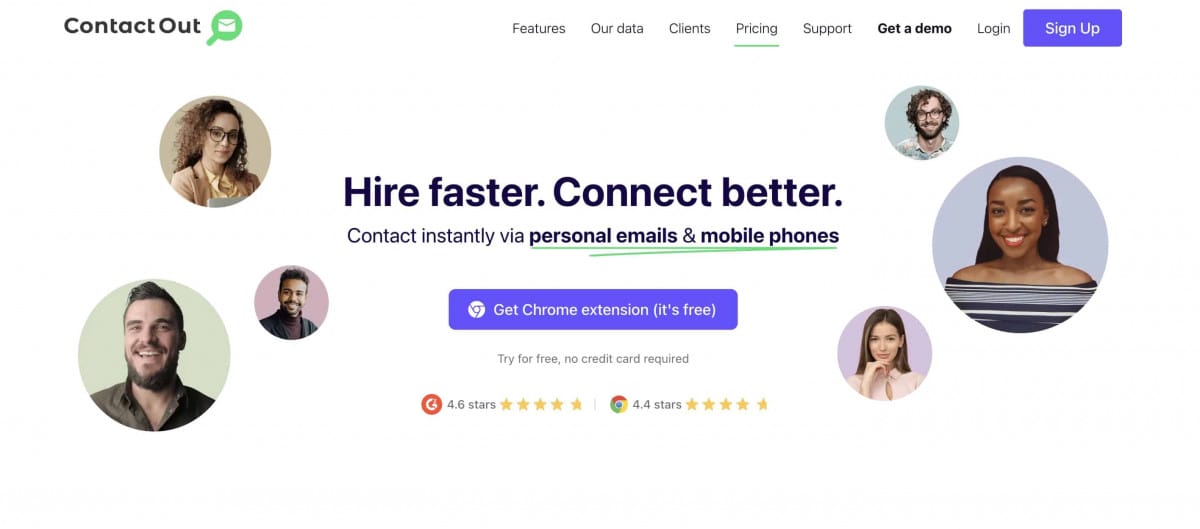 ContactOut is a great email finder for salespeople, recruiters, and anyone else who needs to be able to reach out to potential customers or candidates.
ContactOut makes it easy to find email addresses, phone numbers, and social media profiles. It also allows you to export your contacts into a CSV file so that you can import them into your CRM or ATS. It is another valuable tool for anyone who needs to build a professional network.
ContactOut is free, to begin with, and is the best free email finder on the list as it offers 480 email searches per year for free.
Why should you use Email Finder Tools?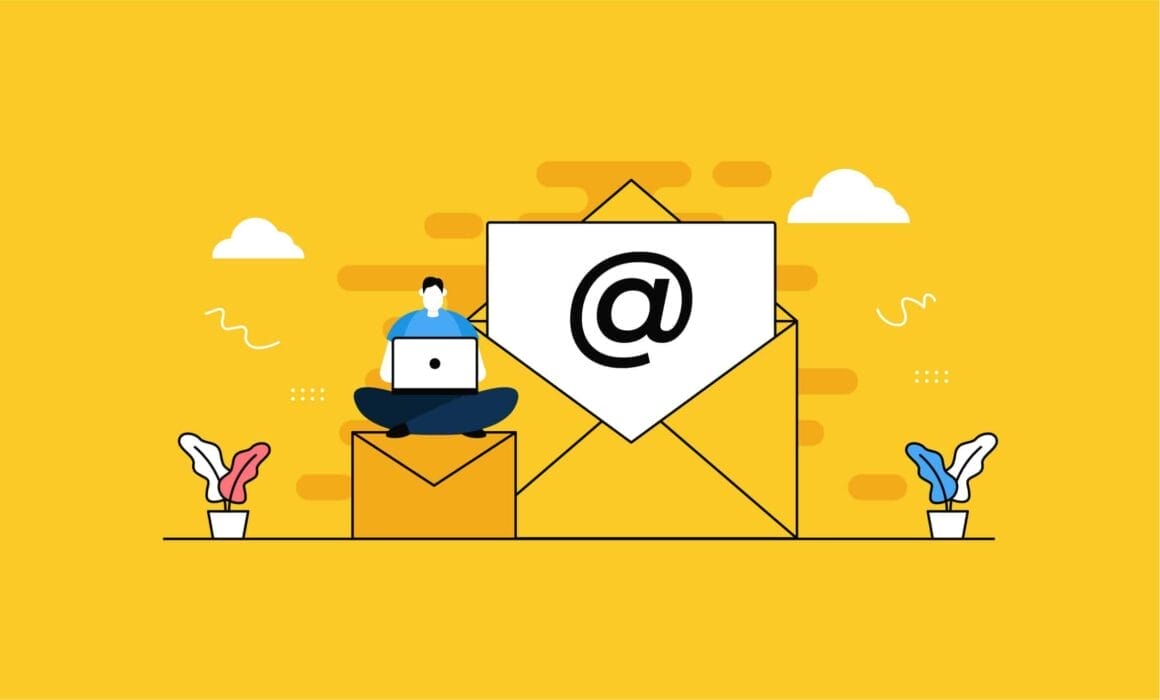 Email finder tools, also known as email hunters, are SaaS products that can be used to find publicly available emails related to a specific website or brand.
An email finder tool searches the web for all instances of emails attached to a website. These tools can be used as browser extensions or web apps to find the email addresses of prospects in no time.
Email finder tools basically search engines for email addresses.
All you need is to enter your query, and they deliver email addresses instead of search results.
Coming back to the question, there are several reasons why salespeople use email finders, the first one being — to save time.
As a salesperson, you don't need to visit every site and wrangle various pages to find an email address. Just open an email finder tool, enter the website address, and voila! There you have it. All the email addresses that exist for that certain site.
Most importantly, these email results are usually correct and up to date.
What are Email Finders usually used for?
Email finder tools are, as said earlier, used for discovering prospects in quick time. Additionally, these come in handy when you are:
Looking for marketing qualified leads
Building high-value email lists
Already in possession of an email list and now want to check if the emails are up to date.
Trying to reduce bounce rates.
Looking for marketing qualified leads
Leads who are already interested in your products or services are often called marketing qualified leads (MQLs). The odds of selling something to people who have already shown interest in some of your products are quite high. Having direct email contacts is extremely important if you wish to be successful in the B2B or B2C marketing sphere.
Building lists of high-value
Before starting a sales campaign, it is necessary to have a high-value list of contacts because it will always result in higher revenue. When you deal with an account-based marketing strategy, generating good revenue is highly important. Try to get as many high-value contacts as you can to boost your marketing efforts.
Reducing bounce rates
High bounce rates can signal you that something is wrong with your marketing campaign. Many different issues can cause high bounce rates, such as invalid addresses, spam filters, technical issues with servers, or low sender reputation. Tracing such matters can take time. Email finder tools can be beneficial, for that matter. They can show you the real reason for getting so many bouncing emails.
Bottom line
If you want to bring your marketing campaigns to a new level, find new leads and boost your conversion rates, nothing can help better than the email finders.