Google Classroom for Educators: A Simple Guide and Review
Google Classroom is an online learning platform developed by Google to bring out paperless communication and workflow between teachers and students. But I assure you, it is way more than that in reality.
It has eliminated the barriers where students had to go through so much difficulty submitting their assignments or sharing information.
Google Classroom provides easy access and hassle-free space not only for teachers where they can create, assign, supervise and grade students' work but also for the students.
Google Classroom provides seamless integration of teachers and students, where teachers can directly add their students by providing them with a piece of code (read on to know about this); this code needs to be entered by a student to access a particular class.
Every class has its respective folders where students can submit their assignments and teachers can make announcements.
One of the best features it provides is that it is integrated with all collaborative Google products like Google drive, Google calendar, Gmail, Google Docs, Sheets & Slides, and Google meet. These tools can help create & share assignments for scheduling, for communication and for, learning & writing simultaneously.
There are many more apps that work with Google Classroom. Check here the full list.
How to use Google Classroom?
Open classroom.google.com
Make sure to open classroom.google.com and log-in with your Google account. Since you are using it for the first time, you will be greeted with an onboarding box like this: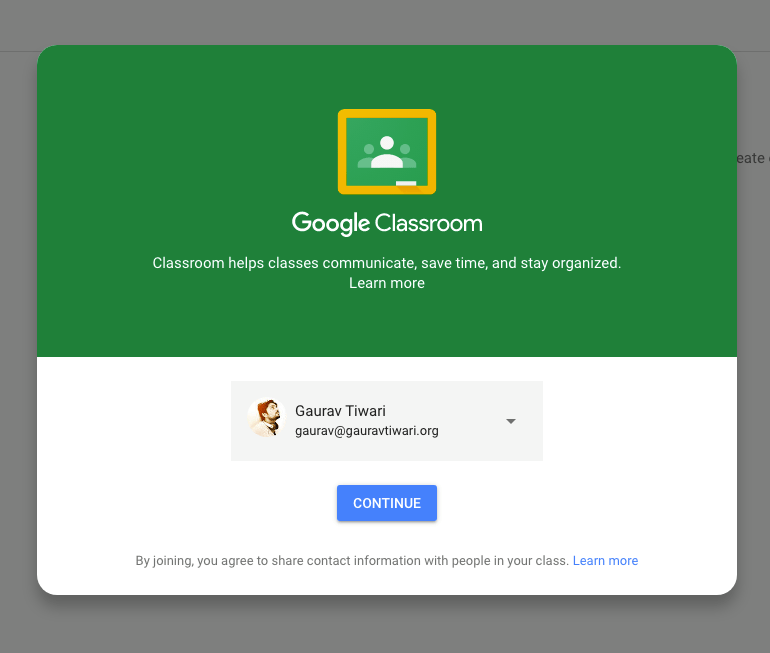 Click on Continue to proceed.
You will now be on the Classroom homepage. This is your workspace.
Create your first class
Click on the + icon to create your first class on Google Classroom.
Fill in the required details like Class name and optional details like subject/rooms etc. and click Create.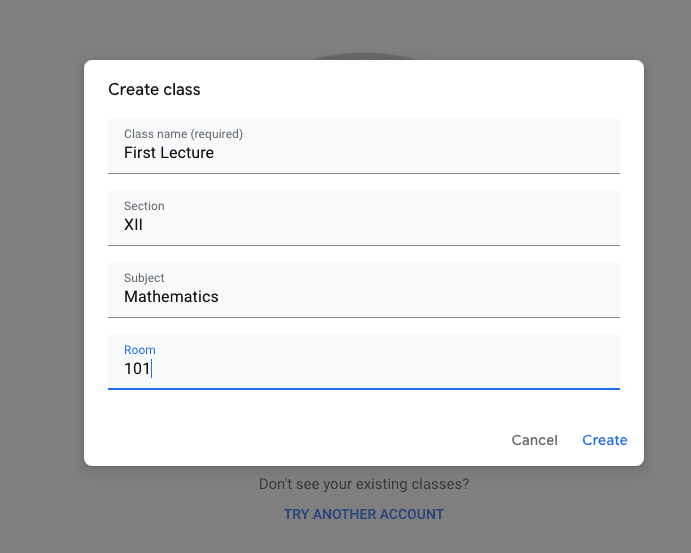 You now have your first classroom ready.
Great.
There are four tabs. Stream, Classwork, People, Grades.
Stream in Google Classroom
Google Classroom Stream lets you post updates, make announcements and respond to student posts.
Try making an announcement like this.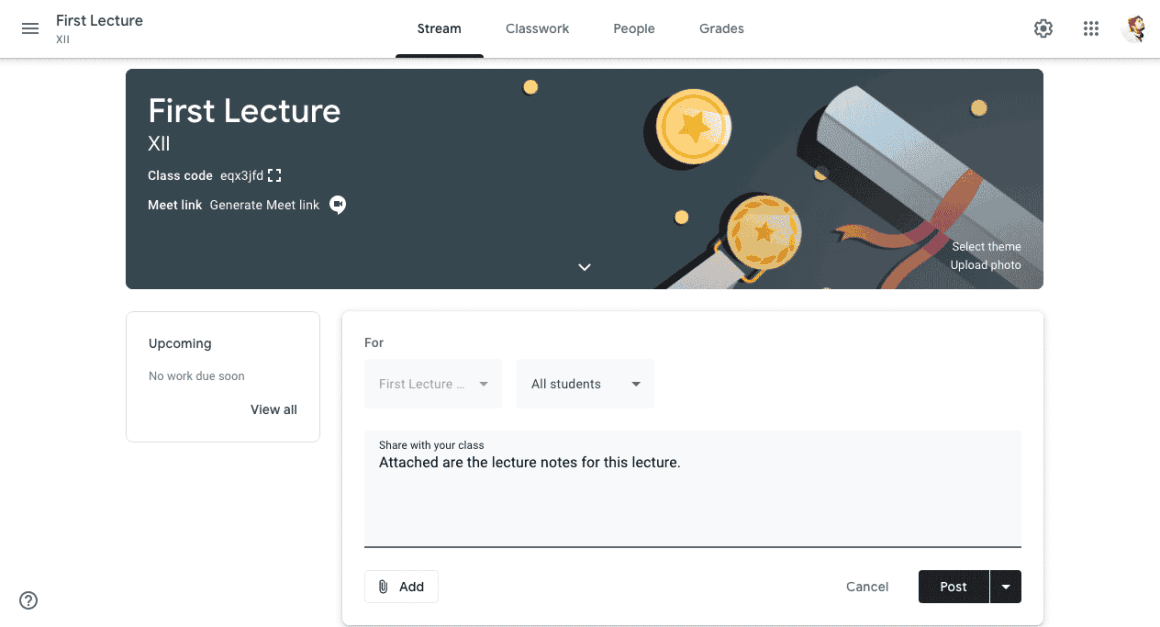 Classwork in Google Classroom
You can add study materials, assignments, quizzes and much more by uploading those to Classwork tab.

In the people tab, you can invite or add students. In the grades tab, you can assign grades to students.
Done.
Feel free to explore Classroom even more.
But why should you use 'Google Classroom'?
During this coronavirus pandemic, where everyone is staying at their homes. 'Virtual meetings' are the only things that are allowed. Google Classroom has come up with this Feature for students as well as teachers, which is completely secure and reliable.
Being a free online learning platform, Google classroom has got multiple perks for teachers and students well being. Here are some reasons why one should use 'Google Classroom'.
Easy to access
Google Classroom has managed to create a user-friendly platform for both teachers and students.
As every material uploaded is saved in the Google Drive's class folder, teachers and students can easily access these materials anytime, from anywhere, whether a student is absent or not.
Saves time
This platform is a great blessing when it comes to saving time. As this classroom can be easily accessed from mobile phones students and teachers are not required to have any laptops/desktops for engagement this meeting. In fact, with just one click, teachers and students can upload and submit assignments.
Files are never lost
Those days are gone when students gave excuses that they had lost their notes. As with Google classroom, all your files and works are automatically stored in the cloud so that you can access them at any time in the future using any device.
Paperless
One Major reason for using Google classroom is that it allows paperless communication between teachers and students. This means that students no longer have to fill pages to complete the assignments. overall the assignments submitted and uploaded by the students and the Teachers are permanently stored to drive.
How do educators use Google classroom for online classes?
Due to its highly engaging interface and super flexible features, educators use its traits to a great extent. With Google Classroom teachers can:
Share Study materials
In order to make learning dynamic for students, educators can make their online classes more engaging by including PDFs, videos, links to websites, and YouTube Videos. In addition, if they want a face-to-face interaction with the students, they can also conduct a meeting or can record their video tutorial lectures and make it available for the students to watch.
Keep on communicating
Educators are required to interact with the students as much as they can to make their online classes engaging. They can use this interface to upload assignments or assessments and can also check you haven't submitted their work. Teachers can also make announcements and reminders regarding their new assignments or study material and can assign a due date for them.
Moreover teachers can help students who are poor in studies or need extra support by providing them formative assessment as well as they can post questions or quizzes and can set it to private so that no one else can see the answers except you.
Facilitate online discussion
This is another way for the teachers to conduct their online classes, as they can create groups and assign projects to each group.
Teachers can facilitate online discussion or doubt clearing sessions for the sake of students so that they can have all the concepts clear regarding any topic.
Moreover, teachers can upload assignments to different classes and can you reuse them from year to year as well as they can effectively distribute and collect assignments in a well-arranged manner.
Give feedback
As an educator can customize assignments to some students or groups in a class they can also provide meaningful feedback to students. This means that teachers can give instant feedback to every student on their respective assignment or assessments by the help of the grading feature available in 'Google Classroom'.
Besides this, educators can easily track students' real-time progress to check whether a student was productive or regular during the entire session and assignments.
Send reports to Parents
Teachers can have an overall view of the performance of each individual. This means that they can easily access the performance activity of every student from the entire year and send this assessment to the parents via email.