How to fix Audio Renderer Error in YouTube?
One rare audio error that users face on YouTube is the YouTube Audio Renderer Error. Audio renderer error is caused when you try watching YouTube videos but due to the lack of proper integration between the Windows Sound Driver Frequencies and the ASIO Driver Frequencies, audio fails to render on browsers. One more reason for this is the hinderance caused due to outdated or buggy audio drivers.
So if you're a YouTuber and your YouTube videos get caught up in these renderer errors, there's no need to panic. You can easily solve this issue by using these couple of methods.
Why the audio renderer error?
The difference between the sample rates of Windows Sound system and Audio Stream Input Output driver settings, causes the issue. Both must use the same sample rate.
Different sound cards and applications report different errors or crashes, but sample rates difference is usually the root cause for these kinds of errors.
Let's fix Audio Renderer Errors on YouTube.
So, here are some solutions that will solve your problems completely.
Solution 1: Restart your device.
Most of us may have faced problems while playing YouTube videos , which says "restart your device". This notification leaves everyone in a frustrating condition.
So, if it says, do it. Restart your device to fix the Audio Renderer Error in YouTube.
This method is the easiest way anyone can try. By just Restarting your device can get rid of the error which prompts "Audio renderer error Please restart your computer". However, you have to try this a couple of times by switching off and on your device unless you are sure that it is a permanent fix. After starting your device, if the notification doesn't appear again then you can be sure that the error is corrected. But , still if it gives the same message again a minute after starting your device, then you should definitely try on some other technique for solving your problem permanently.
Here are some other methods by which you can completely correct the error.
Solution 2: Unplug your audio playback device.
There are many people, who connect more than one audio playback device with their device. For example, if your device has two audio ports and you have connected a speaker as well as a headphone or you have connected a headphone and a speaker via Bluetooth, then there is a chance of getting this error while playing a YouTube video. Although your system should use the default audio playback device and settings, you may end up getting this error message. So disconnect or unplug the second audio playback device and check if YouTube can play audio without any error or not.
Solution 3: Restart or disable the audio driver
How to restart & disable the audio driver?
By restarting your audio device driver, you can eliminate the audio renderer error. Yet, if your try goes in vain. Then you should make an effort to do the following steps.
Step 1. Press the Windows + R keys present on the keyboard to open the Run box. Then type devmgmt.msc in the Run box and press enter to open Device Manager.
Step 2. Search and find Sound, video and game controllers in the device Manager option. Further click right on every audio adapter available there and choose Disable device.
Solution 4: Uninstall the audio driver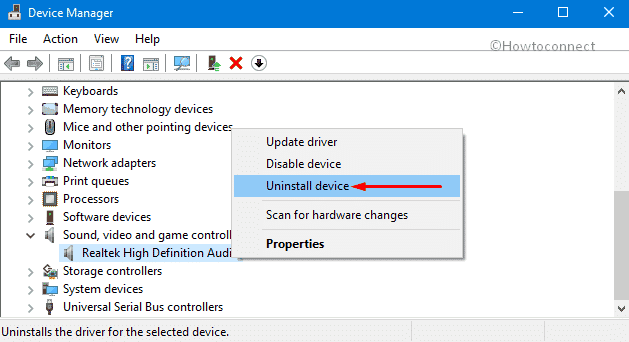 One of the reasons for causing the audio renderer error could be the audio driver present in your device. If you face such an instance, you should try Uninstalling the audio driver of your device. This will force the system to reinstall the audio driver, as well as it will fix all the problems related to drivers on YouTube.
Besides these solutions, there are many more solutions to fix your error such as running the audio troubleshooter. If it still doesn't get fixed then you can take others' support by asking questions on Quora, Forums etc., taking online help and software FAQ.