Home » Posts tagged 'matter'
Tag Archives:
matter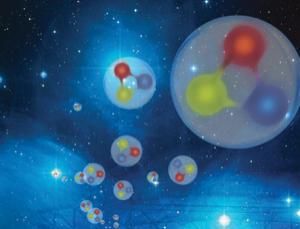 Image © Orthodoxnet.com
What is it?
In practical, we see that if we burn a coal, it emits heat & gives ash. Scientifically, the coal (matter) is converted into heat (energy) and precipitate (matter). This is a balance conversion that matter converts into energy. Similarly, we can generate a lot of energy after nuclear fission, in which also matter is converted into energy.
In inverse, similarly, energy can also be converted into matter. Physics' most famous equation E= mc² given by Einstein also says the same. E (energy) is directly related to m (mass).

Image © uoregon.edu
Matter can never be created or destroyed, but it can convert itself into several other forms of either matter or energy or both.
Statement of Conservation of Energy
Energy can never be created or destroyed, but it can convert itself to other forms of matter & energy.
One can easily regard this as a Symmetry operation, in which Energy ↔ Matter. Usually you can say, Matter (mass) and Energy both are conserved with their inner-conversions and the total value of mass+energy is a constant, since origin of universe.
The mass and energy can never be produced or destroyed — but they can be converted into one form to other.
© Gaurav Happy Tiwari, 2011
A typical galaxy contains much more matter than what we can actually see. In fact, the visible portion of a galaxy represents only about 5 to 10% of total mass of the galaxy. Many studies lead us to define the conclusion that the Universe abounds in matter that we cannot see. This unseen matter is called Dark Matter because either it does not emit light or its light emission is too dim for us to detect.
Normal matter, such as STARS, PLANETS, DUST and MOLECULES , is often called Baryonic Matter because its mass is primarily due to the combined mass of the protons and neutrons, which are combinedly called Baryons, it contains. The mass of electrons is neglected because the mass of an electron is so small relative to the mass of a proton or neutron. Some of the normal matter such as burned out stars and dim interstellar gas, is part of the dark matter in a galaxy.
However, according to various calculations, this dark normal matter is only a small part of the total dark matter. The rest is called Non Baryonic Dark Matter because it does not contain proton and neutrons. What it contains? We know only one member of this type of dark matter…..the neutrinos.